Resources > Blog
Direct Extension Dialing with Voice Mail for Amazon Connect?
July 4, 2020
Call Center with PBX like features?
One of the most requested features folks deploying Amazon Connect typically ask for is the ability to directly dial an extension to reach a specific agent or team member.   Clearly Amazon Connect is not a PBX system, it is a call center!  It is possible, however,  to give your Call Center instance qualities that enable PBX like functions including voice mail, Extension dialing and even queue based voice mail.   In a world with geographically dispersed workgroups and most folks using cell phones anyway, a cloud based solution based on Amazon Connect is ideal, practical and easy to administer.
Dial by Name Option
Why we still use DTMF Call Trees in the 21st Century is a mystery to me.   AWS provides speech recognition technology that enables you to replace the old world "Press 1 for this and Press 2 for that" with "So glad you called, I can route your call if you tell me the name of a team member or a function like sales or customer service".    This interface is an improved customer experience in several dimensions.  It enables "hands free" interactions for mobile users,  is more natural and experientially compatible to human communications.
Dynamic Configurations
Every resource in the Amazon Connect instance including prompts, queues, flows and even agents have a unique identification number.  This number, or ARN,  can be used in contact flows to check the status of a particular user for example.  They can also be used to dynamically configure a contact flow with end points that change on a call by call basis.  An incoming call, for example, can invoke a lambda function that is used to look up the 'dialed number" in an external database and bring back queue details that can be used to dynamically populate the details of the contact flow.   Rather than create a separate contact flow for "sales", "customer service and "technical support" why not use the same contact flow, reconfigured based on either the callers self navigation choice or the DNIS the caller dialed?   It takes nothing more than a simple dynamoDB table to quickly define the various required flow parameters and an "invoke lambda" function to greatly simplify the other wise complex world of "cut and paste" contact flows.

Agent ID
Each Agent in a call center instance has an ARN that uniquely identifies that user.  This ARN when defined in an external database that also specifies an extension number, cell phone, user name and even a custom prompt can be configured to create very powerful contact flows.  A caller can either ask LEX for a particular user, or you can prompt the caller to enter the agents extension number.   We prefer asking LEX for the user names as it eliminates publishing a directory of extension numbers.  In either case, lambda might convert name to extension number, look up the contact flow details in the database, indexed by the extension number and  "set contact attributes" step with the details needed to populate the rest of the contact flow.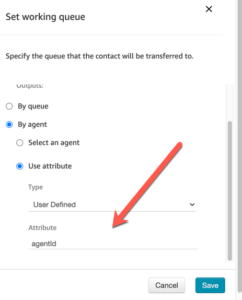 Is Billy Bob available?
Once we have the individual name and extension number of the user we are looking for, we can use the details returned by the lambda function "getQueueDetails" from the DynamoDB table "QueueDetails" to populate and set "check staffing" step.  If the user is available we can send the caller to that user.  If they are not available, we can offer options like "try someone else" or "leave a voice message".  Voice messages can be sent as wav files, transcribed as text and even sent as SMS messages!    For users that might actually be field sales or support personnel, we can pull back their "cell phone number" from the same database table on the original lambda invocation and pass the call to an external number as yet another option.
Configure Queues as Users?
Using the same resources described above, we can take voice messages for customer service queues.   The "manage users" directory in the contact center administrator portal contains the first name, last name, login and email address of each users.  By adding a queue name as a user in your configuration you can add an email address for that customer service queues.  This means that you can now create options in your customer queue flow that not only offer a call back when an agent becomes available, but you can also encourage them to take a message.  The message converted to email can then be routed to the next available agent using email routing provided by ConnectPath and agent dashboard for Amazon Connect.  This is also a handy option for after hours call handling!
Post Call Survey with Recorded options!
In our next blog we will use these same resources to enable audio based "post call surveys" that record the callers answers and use transcription, comprehension and sentiment analysis to grade the survey!
If you can imagine it, we can make it happen!
The options for configuring Amazon Connect contact centers is limited only by your imagination.   The AWS ecosystem is populated with an expanding library of services from speech recognition, AI, Bots, text to speech, chat, transcriptions and even language translations.   We believe we are rapidly approaching the possibility of having an English speaking agent interact in near real time with a Spanish speaking caller.
Give us a call and play our favorite game "stump the vendor" and lets hear your call center dream, we think we can make it a reality. –